The Conference will take place in the Kuala Lumpur Convention Center (KLCC) which is located in the Kuala Lumpur City Centre.
KLCC has over 33,000 sqm of function space, including two auditoria; a 3,000-seat Plenary Hall and a 470-seat Plenary Theatre; a Grand Ballroom which seats 2,000 diners, a 500 person capacity Banquet Hall, three Conference Halls, six Exhibition Halls (12,310 sqm of column-free exhibition space on a single level including a 2,600 sqm standalone marquee) and 23 meeting rooms.
Facilities and Services
The Centre also prides itself on having a professional team to ensure the delivery of world-class services and top-notch culinary offerings; the latter served up by a 51-strong culinary brigade operating halal-certified kitchens.
Access to the Venue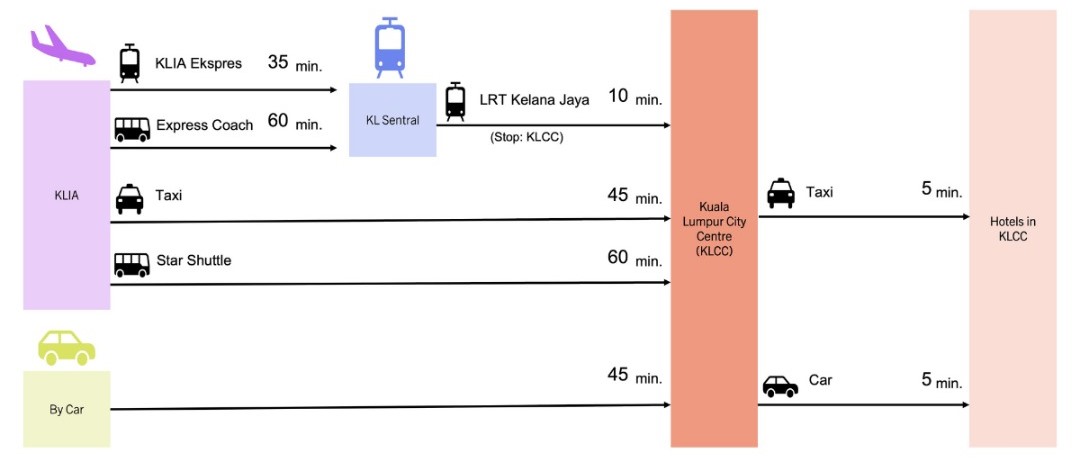 Airport Taxi
Type
Budget
Premier
Family
Executive Premier
Capacity (Max.)
3 adults, 2 medium luggage
3 adults, 2 large luggage
8 adults, 4 large luggage
5 adults, 3 large luggage
Duration
45 minutes, Direct to hotel or convention centre
Arrival
KLCC
Cost (RM)
85
118
234
234
Operating Hours
24/7
Ticket
Coupons System
Domestic Arrival, Level 3, Main Terminal Building
International Baggage Reclaim, Level, Main Terminal Building
https://almgo.my/booking3/
https://almgo.wasap.my/
Transit
Direct to hotel or convention centre
Metered City Taxi
Type
Budget Taxi
Premier Taxi
MPV
Family Van
Capacity (Max.)
3 pax
4 pax
5 pax
10 pax
Duration
45 minutes, Direct to hotel or convention centre
Arrival
Hotel in KL
Cost (RM)
Normal/Midnight
90/110
100/130
130/150
195/240
Operating Hours
24/7
Ticket
https://www.mycab2klia.com
Transit
Direct to hotel or convention centre
Train
Type
KLIA Ekspres
KL Sentral-LRT Kelana Jaya
Capacity (Max.)
–
–
Duration
35 minutes, KLIA-Salak Tinggi-Putrajaya-Bandar Tasik Selatan-KL Sentral
10 minutes, KL Sentral-Pasar seni-Masjid Jamek-Dang Wangi-Kampug Baru-KLCC
Arrival
KL Central
KLCC
Cost (RM)
55
2.40
Operating Hours
Mon-Fri (6 AM-10 PM)
Mon-Sat (6 AM-12 AM)
Sun/Public (6 AM-11.25 PM)
Ticket
https://www.kliaekspres.com
https://www.klsentral.info/wp-content/uploads/2018/04/KL-Transit-Map.pdf
Transit
KLIA-Salak Tinggi-Putrajaya-Bandar Tasik Selatan-KL Sentral-KLCC
Bus
Type
Express Coach
Star Shuttle
Capacity (Max.)
–
–
Duration
1 Hour, Direct from KLIA to KL Sentral
1 Hour, From KLIA to hotels at KL City Centre
Arrival
KL Central
KL City Centre
Cost (RM)
10
18
Operating Hours
6.30 AM-12.30 PM
–
Ticket
Level 1, Block C, Short-Term Car Park
Level 1, Main Terminal Building
Transit
Direct from KLIA to KL Sentral
From KLIA to hotels at KL City Centre